The common point of automatic extrusion blow molding machines
Views: 0 Author: Site Editor Publish Time: 2022-02-17 Origin: Site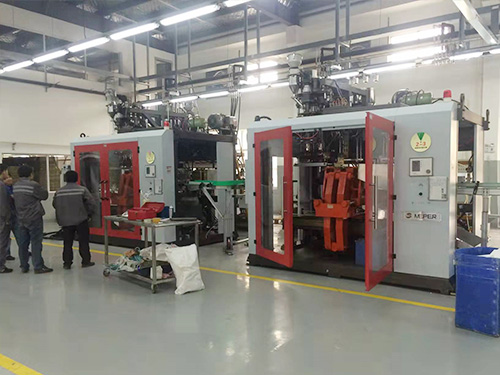 There are many types of automatic extrusion blow molding machines. When we use them, we must pay attention to selecting the appropriate model for production.
Features of automatic extrusion blow molding machine:
1. Each heating zone is equipped with independent segmented temperature control; the position and distance of lamps and reflectors in the heating zone can be adjusted according to the different shapes and sizes of the preforms to achieve the ideal heating effect.
2. The heating of the preform by the infrared lamp is controlled by the method of constant pressure and temperature regulation, so as to ensure the proper, accurate and stable heating of the preform, and is not affected by the change of the input voltage.
3. According to the needs of different products, this automatic blowing camera can be matched with the design of double-chamber double-stretching cylinder, three-chamber three-stretching cylinder, four-chamber four-stretching cylinder or six-chamber six-stretching cylinder, and the function can be adjusted separately. Use a single-cavity single-stretching cylinder to meet the different needs of machine adjustment or mold trial.
4. The control system has an automatic fault reporting function; when the operation is wrong or a fault occurs, the computer will display and issue an alarm.
5. The mold replacement is convenient and quick, and the thickness of the mold capacity does not need to be adjusted within the mold capacity range of the corresponding machine.
6. The production process is fully automated, and multiple machines can be combined into a fully automatic production line at the same time. The entire production process does not require manual contact with preforms or finished bottles.
MEPER MACHINE focuses on the design and manufacture of blow molding machines, automatic blow molding machines, and multi-layer blow molding machines. It provides a complete set of automatic blow molding solutions. It has now launched single-station and double-station, and can produce plastics from 5ML-50L Hollow container, can be equipped with extrusion dies from one cavity to ten cavities, and can be used to produce high barrier containers from one layer to five layers. It can be equipped with liquid level line linear wide-mouth cutting, oblique blowing, low blowing, and in-mold. The labeling process, all adopting the European human-machine interface control system, providing high-quality mechanical products, and high-quality professional services are the tenets of MEPER MACHINE.