Precautions for switching on and off of MEPER hollow blow molding machine
Views: 0 Author: Site Editor Publish Time: 2022-02-21 Origin: Site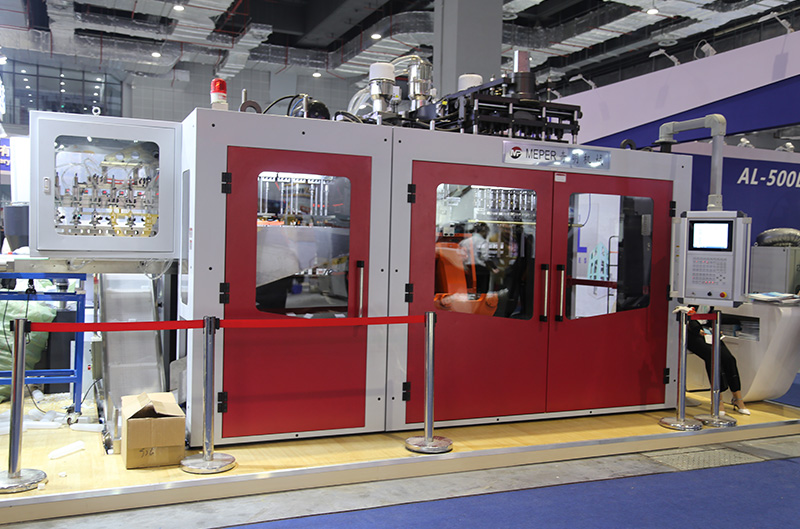 Notes on switching on and off of MEPER hollow blow molding machine:
I Start-up precautions
1. Check the hydraulic oil level gauge of the blow molding machine and each hydraulic device to keep the oil level in each oil tank above the reference oil level.
2. The materials used in the extrusion blow molding machine must meet the necessary drying requirements, and additional drying is required if necessary.
3. Select the machine head specification according to the product model and size, and install the machine head according to the installation sequence of the machine head flange, mold body, die, porous plate and filter screen.
4. Check the compressed air pipe and install it firmly, install the core mold electric heating rod and the head heating ring. Check and open the water supply valve and turn on the cooling system. Evenly adjust the gap between each part of the die to ensure that the center line of the main and auxiliary machines is aligned.
5. The operation equipment such as extruder, clamping device, manipulator and other operating equipment shall run without load to ensure that all safety emergency devices work normally and troubleshoot in time.
6. According to the requirements of the process conditions, set the temperature of the blow molding machine head and each heating section, heat it segment by segment, and use the scraps to test the integrity of each heating segment to ensure no heat; wait for the temperature of each part to reach the set value. After overheating, keep constant temperature for 0.5~1h.
II shutdown precautions
1. When Meper extrusion blow molding machine is finished, the speed returns to zero, and each heating section is gradually closed. Close the mold and blow with it closed so that the needle is half a centimeter from the mold. Apply a rust inhibitor to prevent debris from falling into the mold and damaging the mold.
2. Turn off the main power supply, lubricate and maintain the equipment, add lubricating oil, clean the whole machine, and cut off the water in each part. If the stop time is long, please drain the water in the mold to prevent rust and blockage.
The above are some precautions for switching on and off of the hollow blow molding machine.