Multi-layer extrusion blow molding machine faults and troubleshooting methods
Views: 0 Author: MEPER MACHINE Publish Time: 2022-11-21 Origin: MEPER MACHINE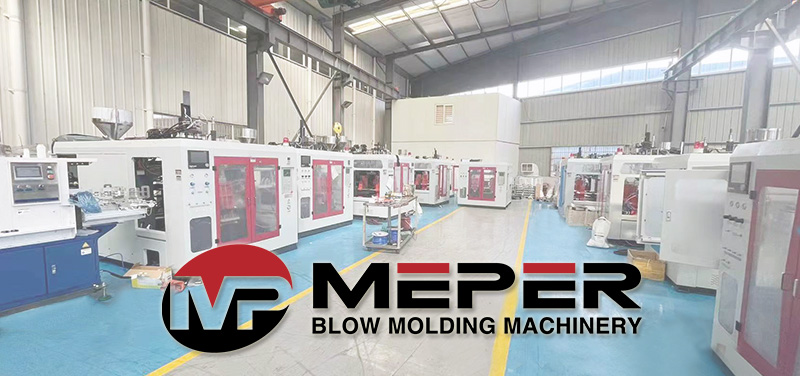 Multi-layer hollow blow molding machine faults and troubleshooting methods
Multilayer blow molding (multi layer blow molding) is a blow molding technology developed to meet the special requirements of certain industries such as pharmaceuticals, food and cosmetics for packaging containers such as air tightness and corrosion resistance. Its basic process principles are the same as The blow molding technology of single-layer products is the same, mainly including co-extrusion blow molding and injection (injection) blank blow molding. When using the co-extrusion method, multiple extrusion sails are used, and different resins are extruded into the multi-layer head at the same time to form a multi-layer concentric product parison, and then blow molded. When using injection blow molding. It is to inject one layer on the male mold first, then change the mold cavity to inject the second layer on the first layer, and repeat the operation to form a multi-layer product parison, and then blow molding. The multilayer systems that have been used in industry include polyamide/polyolefin, polystyrene/polyacrylonitrile/polypropylene, polyolefin/polyvinyl chloride, etc.
In addition to the abnormal phenomenon similar to extrusion blow molding, the multi-layer hollow blow molding machine may also have two abnormal phenomena unique to multi-layer hollow blow molding.
I The product presents delamination phenomenon
The melt temperature of the adhesive layer is too low, and the material fusion is not good. Properly increase the temperature of the adhesive layer to improve the adhesive performance.
The melt temperature of the adhesive layer is too high, and it is attached to the adjacent layer to make the adhesive layer uneven, and the temperature of the adhesive layer should be appropriately lowered.
If the temperature of the blow molding mold is too low, the adhesive layer in the product cools too fast and the adhesion with the adjacent layer is not strong. Control the flow rate of the cooling medium to prevent the mold temperature from being too low. The raw materials contain moisture, and the raw materials should be dried.
II Uneven barrier layer in the product
If the melt temperature of the barrier layer is too low or too high, re-adjust the corresponding extruder temperature and extrusion rate.
Extruder, the pressure fluctuates, the extrusion speed is unstable or the screw structure is improper.
There is stagnation or degradation in the machine head, and the flow channel of the machine head should be improved according to the fluidity of the material to avoid stagnation.