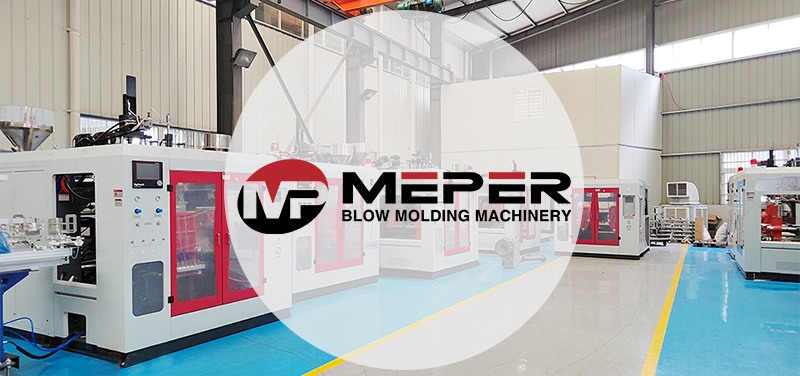 Established in 1998, MEPER MACHINE boasts a rich history of over 25 years, providing cutting-edge solutions to the global packaging and plastic industries. With our roots in a joint venture between Taiwan and mainland China, we have evolved into a technological powerhouse specializing in extrusion blow molding machines.

Global Reach and Extensive Portfolio:
Our extrusion blow molding machines have found homes in diverse industries worldwide. Having delivered over four thousand machines, including blow molding and injection molding units, MEPER has solidified its position as an industry leader.
Technological Expertise and Vision:
Based in the plastic hub of China—Ningbo, our state-of-the-art facilities span over 10,000 square meters. With two plastic machinery factories and a dedicated team exceeding 100 skilled professionals, MEPER is committed to advancing automation for the progress of our clients.We have a rich technical team and technology accumulation. Design the important components of the entire machine yourself, such as the die head, hydraulic system, etc. Now we have our own technical teams and agent factories on five continents. Provide professional solutions, after-sales support, and quick response team.
Innovative Design and Technical Superiority:
A key focus lies in the production of extrusion blow molding machines for 30L and below. With a relentless pursuit of technological advancements, MEPER has erected formidable barriers of technical expertise, setting us apart in professionalism and dedication within the industry.
Specialization in Multilayer and Unique Designs:
In the realm of multilayer blow molding, MEPER shines with the capability to produce machines spanning 1-7 layers. Widely employed in industries like pesticides, food, cosmetics, and eco-friendly packaging, our multilayer machines make notable contributions to environmental sustainability.
Multi-layer packaging can use recycled materials, reduce the use of plastics, and increase the recycling of waste plastics. With the unique die head design, we can ensure that the uniformity of each die layer is very good, the pressure is uniform, and the temperature is stable. In developed countries such as Europe and the United States, multi-layer equipment is very popular.
Mastery in Angled Neck Bottle Production:
With over two decades of specialization, MEPER dominates the production of angled neck bottles. Our machines, favored by major brands like MR. Muscle, achieve an impressive yield rate exceeding 99.9%, combining stability, high production output, and precise bottle neck formation.Our suppliers provide packaging to major daily chemical manufacturers such as MR.Muscle all year round.
Versatility in Small Product Manufacturing:
MEPER's machines excel in the production of small items such as milk bottles, cosmetic containers, ocean balls, and medicine bottles. With unparalleled production capacity, multi-head functionality, and low energy consumption, we've achieved the epitome of efficiency.
Global Collaboration and Customer-Centric Approach:
In our pursuit of excellence, MEPER engages in active communication and learning with clients worldwide. Annual discussions ensure alignment with customer needs, with every machine design centered around practical production requirements.
Intelligent Solutions for Today and Tomorrow:
In an era of escalating demands for intelligent and high-speed machinery, MEPER continually progresses. Our commitment extends to creating machines that not only meet but exceed customer expectations, ensuring peace of mind in production efficiency.
Open Dialogue and Continuous Improvement:
MEPER welcomes collaboration, feedback, and suggestions from all quarters. With warmth and enthusiasm, we aim to provide machines tailored to your specific needs. Because at MEPER, we believe in choice driven by trust.
Embark on a journey of innovation and efficiency with MEPER MACHINE. Your success is our commitment!
Today, as the requirements for machines are increasing day by day, we are making more and more progress on the road of intelligence and high speed. We also hope that through our efforts, we can create greater benefits for our customers. We welcome friends from all walks of life to get to know us. We are always open-minded, accept suggestions, and bring the most suitable machine for you with the greatest enthusiasm.
Choose because you believe!