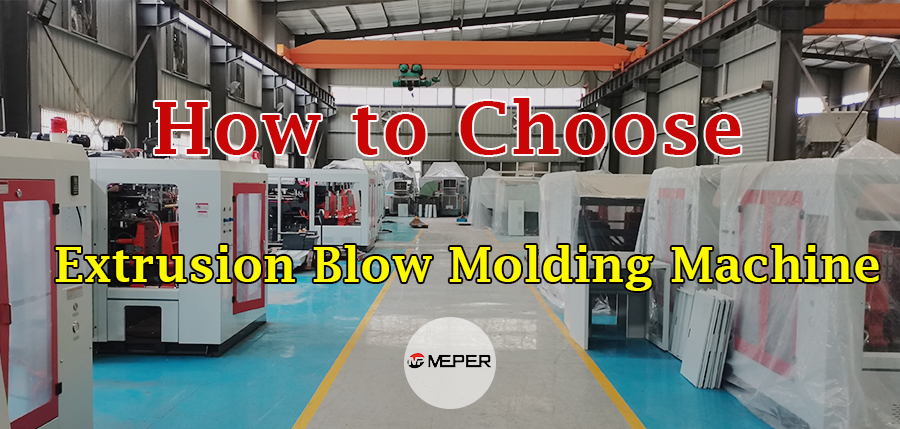 Extrusion blow molding machine is a very common machinery and equipment in the plastic machinery industry, blow molding technology has been widely used around the world.In the industrial industry, food industry, toy industry, etc. have been involved,such as producing engine oil bottle ,milk bottle ,ocean ball,multilayer pesticide and so on.When you are faced with a multitude of blow molding machine manufacturers to choose from, it can be a daunting task to select a suitable blow molding machine of consistent quality for your business needs. In this article, we explore the factors you should consider when choosing an extrusion blow molding machine.

Machine Design
1. Capacity: The first thing you need to consider when selecting an extrusion blow molding machine is the production capacity you require. You need to understand your production needs and select a machine that will meet your capacity requirements.

You can ask the extrusion blow molding machine manufacturer how much time it takes to produce a product. According to your production needs, what type of extrusion blow molding machine you need to configure, single or double station, with several die heads and other related questions.
MEPER MACHINE has many years of production experience and can recommend the right extrusion blow molding machine for your production capacity requirements.
2. Material Type: The raw materials used for extrusion blow molding generally include PP, PE, PVC, PETG,TPU etc.The consumption of HDPE (high-density polyethylene) occupies the first place in the period. It is widely used in the packaging of food, chemical industry and liquid treatment. High-molecular-weight polyethylene is suitable for the manufacture of large fuel tanks and barrels, etc.Therefore, it's important to confirm the type of material you will be using for blow molding. It will help you determine which machine is best suited for your application.
Contact us MEER MACHINE freely,what you want to produce and we will be able to recommend the right material for you.

3. Machine Size: Another crucial factor to consider when selecting an extrusion blow molding machine is its size. Depending on the product you want to produce, you may require a right size blow molding machine. It's important to choose a machine that gives you enough space to make your products.
Tell us the length, width, height and weight of the product to be produced,MEPER Machine can recommend the suitable extrusion blow molding machine according the size.

4. Safety Features: The safe production of extrusion blow molding machines should be the highest priority.MEPER blow molding machine has approved by CE.Before purchasing the extrusion blow molding machine, make sure that it has all the necessary safety features, including emergency stop buttons, safety guards, and locking mechanisms.

5. Cost: The price of extrusion blow molding machines varies depending on the manufacturer, size, and features. On the premise of ensuring the quality of the machine, you need to set a budget before purchasing the extrusion blow molding machine.
MEPER MACHINE can reasonably configure machine parts according to your budget requirements.We can also supply you a whole solution.

6. Machine Efficiency: It refers to the speed and accuracy with which extrusion blow molding machine can produce plastic products. Make sure that the machine you select is efficient enough to meet your production goals while maintaining product quality.
MEPER MACHINE has agents and customers all over the world. If it is not convenient for you to come to China to visit our factory, I can also apply for you to visit our customer's production situation.

7. Maintenance: After the blow molding machine has been running for a period of time, it needs regular maintenance. Before purchasing the blow molding machine, you can know about the manufacturer's after-sales service, warranty period, spare parts, technical support, etc. in advance.
MEPER MACHINE has a one-year warranty period. Before delivery, engineers will debug the machine and produce perfect products. A complete set of spare parts will be sent out with the delivery. In addition, we can also send engineers to the customer's factory to assist in the installation and debugging of the machine to ensure that the machine runs well.

8. Customization Options: Different businesses have varying needs, and it's crucial to choose an extrusion blow molding machine that can be customized to meet your specific requirements. Look for a blow molding machine that can be easily adjusted to produce different types, sizes, and shapes of plastic products.
MEPER MACHINE can customize molds according to your different product requirements. We also have customers who install different molds at 2 stations to meet different production requirements.

In a word, choosing the right extrusion blow molding machine to meet your business needs requires careful consideration of several factors. By taking into account your production capacity, material types, machine size, safety features, cost, machine efficiency, maintenance, and customization options, you can choose a machine that will help you achieve your business objectives effectively.
Please tell us your production requirements, MEPER MACHINE will provide you a complete set of solutions freely.