What are the common production failures of extrusion blow molding machines?
Views: 0 Author: Site Editor Publish Time: 2022-02-24 Origin: Site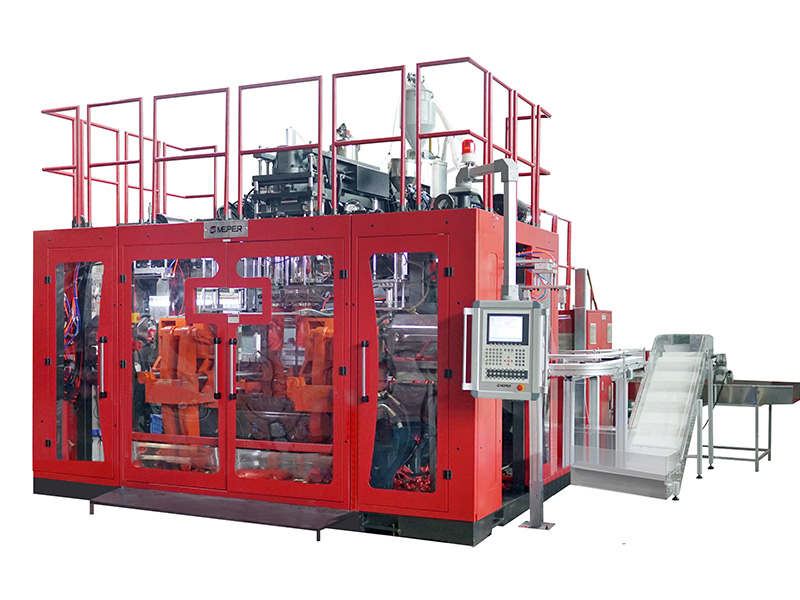 The extrusion blow molding machine will inevitably have some failures during use, so let MEPER Machinery tell you about the common production failures:
1. Black lines on the surface of blow molded products
The reason for the black substance on the surface of the product may be that the raw material stays in the blow molding barrel for too long, resulting in a change in material properties; it may also be that the raw material cannot be melted uniformly, which is mostly due to serious wear and tear of the screw and barrel. Cause; poor cooling water for abrasives, making the temperature difference of the mold larger will also lead to the appearance of black substances.
2. There are bubbles on the surface of the product
During the blow molding process, when the surface of the product is formed, the gas that cannot be discharged in time is trapped, resulting in defects on the surface of the blow molded product.
1. The rotation speed of the screw is too fast.
2. The screw back pressure is too low.
3. The exhaust hole of the mold is blocked or the exhaust is poor, and the gas cannot be discharged smoothly.
4. There are volatile additives in the raw materials.
5. The blow molding material is wet, and the water vapor evaporates into the surface of the material.
6. The blow molding cycle time is too short, and the cavity gas cannot be discharged quickly.
Third, the blow molding machine does not material
1. It may be that the boot temperature is too low due to damage to the extrusion barrel and components.
2. There is glue sticking at the feeding place. Just start the machine and find that there is adhesion, first use a plastic rod or a wooden rod to squeeze the material down at the feed port, so that the glue sticking to the feed part of the screw moves forward.
3. The transmission belt is old or too loose, resulting in unstable discharge.
Contact us:
E-mail: mepermachine@163.com
sales02@bottleblow.cn
WhatsApp/ Phone / Wechat : 0086 13812859969