Selection and difference of single and double station blow molding machine for producing 5L barrels
Views: 0 Author: Site Editor Publish Time: 2022-04-14 Origin: Site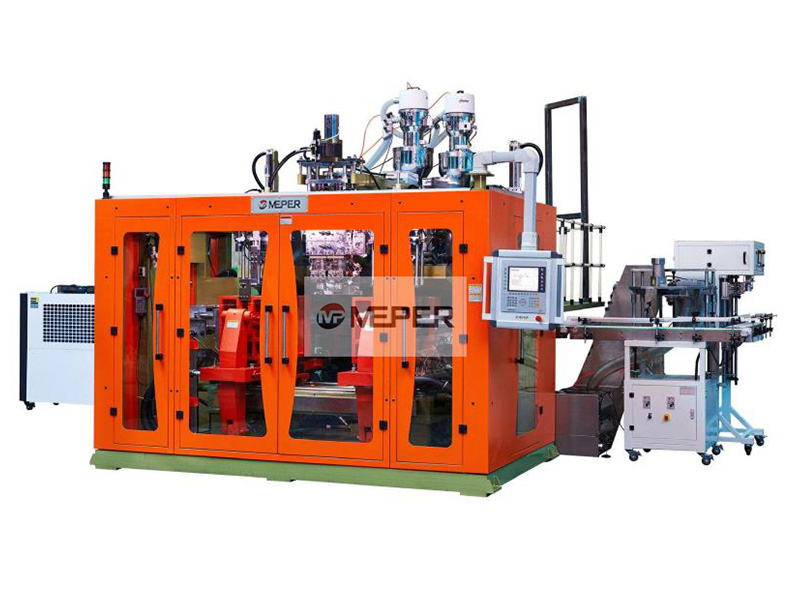 Any plastic product with a small mouth and a large body needs the extrusion blow molding machine to make (except for extra-large rotomolding barrels). Under normal circumstances, products below 30L are usually extruded from a continuous die head and completed by extrusion blow molding machine equipped with an upward blowing system. At the same time, in order to pursue higher output, usually double-station blow molding machine is the first choice for hollow plastic product manufacturers. Today, let's discuss the difference between single-station blow molding machine and double-station blow molding machine in capacity and stability.
For example : 4L oil drum. Our most conventional equipment is MP70D-1: double station, single die head, continuous extrusion, with a production capacity of 250 pieces/hour. A full set of automatic production lines can be equipped with flash conveyor belts, finished product conveyor belts, etc…
At present, we have a single-station equipment MP70FS-3, double-chamber, which produces the same 4L oil drum and outputs the same production capacity, but this single-station blow molding machine has changed in the following points:
1. The left station can be directly connected to the in-mold labeling machine, and the right station can be directly connected to follow-up auxiliary equipment such as leak detection, rotary cutting, weighing, etc., which can easily achieve higher automation across the entire line;
2. The machine takes up less space, which is a great improvement and advantage for places where the workshop area is expensive;
3. The operation stability of the single station is stronger than that of the double station: the control of the blank and the blowing pressure can realize the synchronization of the two cavities;
At present, this single-station equipment is favored by European and American customers, and it is also the star product of our MEPER. Maybe this is the so-called explosive model.
If you are interested in learning more, please contact us!