How to choose automatic line for HDPE bottle extrusion blowing line
Views: 0 Author: Site Editor Publish Time: 2022-05-25 Origin: Site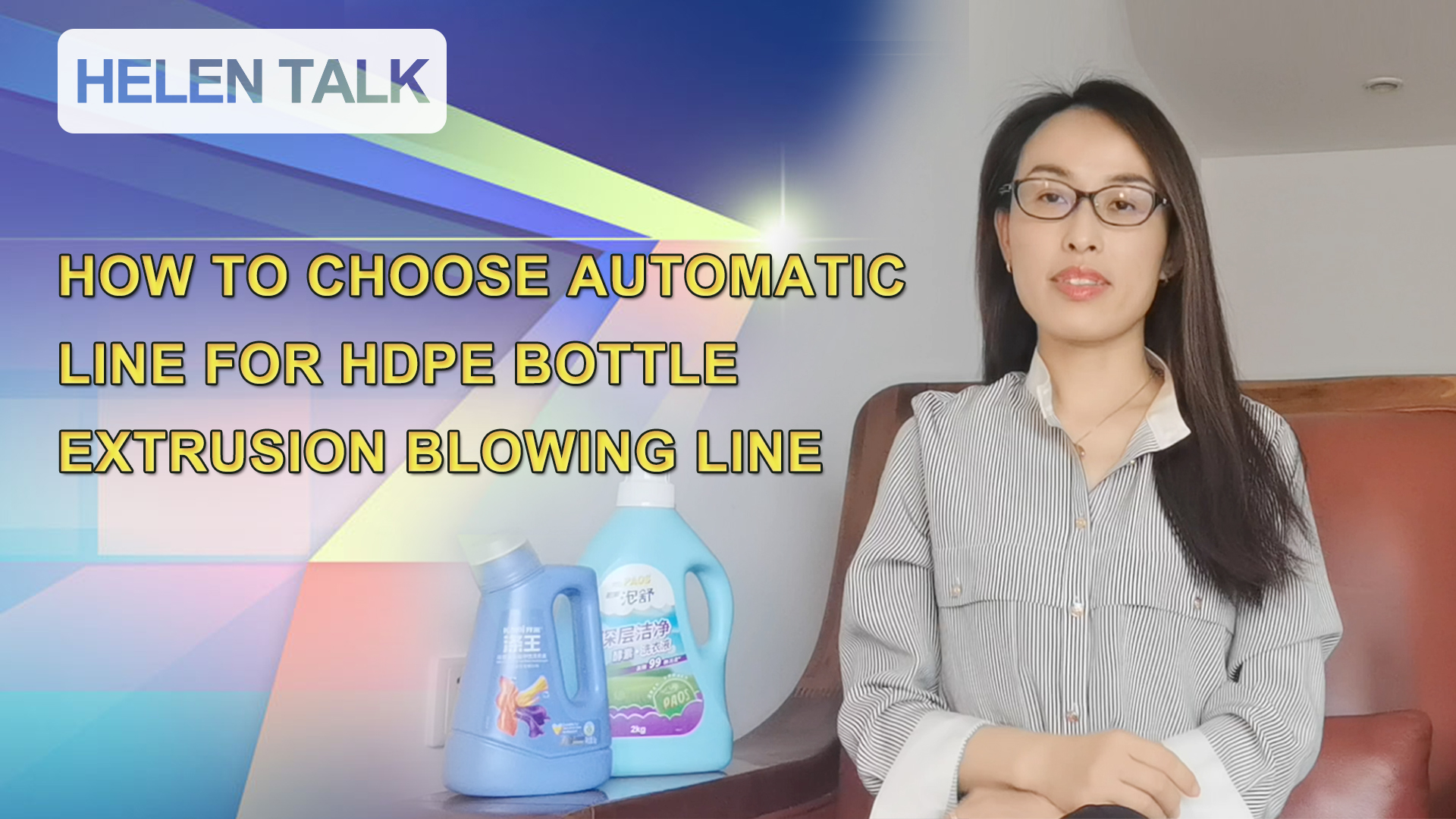 Hello friends, this is Helen.
When producing one hollow HDPE bottle, one whole automatic line includes:
Energy supplying part for cooling source and vacuum air source;
Material feeding part for HDPE raw material auto loading, master batch color mixing, deflashing part granulating and cycled feeding
Conveyor part for deflashing material cycled, finished bottles transportation and collection
Extrusion blow molding part, which is core of the production line. The model is depended on bottle size and output capacity request.
Post process part for bottles, which includes neck special cutting, post cooling, weighing and so on…
Inspection part for bottles, which includes leak testing and vision inspection, such as neck smooth, body dirty, deflashing defect etc…
Package part for hollow bottles, which includes labelling, code printing, auto bagging, carton tray package and so on…
How to choose those auxiliary parts and equipment?
Firstly, you need to calculate your local labor cost. If labor cost is increasing rapidly day by day, then more automatic line can help you to save labor cost lot and increase your product competition.
Secondly, you need to check your production space. Maybe you can tell me your workshop layout and space for the bottle production line, I would like to make relative layout diagram with sizes for your reference;
Thirdly, you can share your investment value idea with me. I will combine all those three factors and give you 2-3 kinds of project idea for your consideration.
Ok, that's pretty much of today's "how to choose automatic line for HDPE bottle extrusion blowing line".
Helen also complied a diagram of "full automatic line for HDPE bottle extrusion and blowing".

Hopefully all makers of bottles can do right choose and investment of HDPE bottle production line.

If you hope to discuss more with me, you can just leave your message on the comment section or contact me by mail or whatsapp freely.

Please don't forget to follow us. Helen shall share more of extrusion blowing knowledge with you in my next videos.
#Helen Talk


E-mail: sales02@bottleblow.cn
Whatsapp: +86 13812859969